Blog Posts
FAMILY LAW
ARTICLES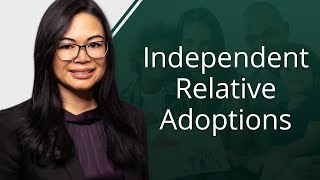 Hello everyone. My name is Frances Gutierrez. I'm an attorney here at the firm. I want to talk about independent relative adoptions. We receive a lot of cases where the relative of a minor child seeks to adopt them as they've had custody and care of them from an underlying guardianship. Those usually arise from for instance an aunt or an uncle and their spouse or a grandparent who seeks to adopt the minor child.
The probate code in California determines the statutory guidelines for independent relative adoptions that arise from guardianships. In those cases, the state of California and social services department are required to interview the parents and inspect the home and submit a report. That is different from step-parent adoptions where the county of Ventura provides both the termination report and the adoption report.
There are other issues of jurisdiction that also arise in both types of adoptions and that's discussed in a video by Benjamin Vojtik, another associate in the firm. An independent relative adoption can proceed with filing a petition to terminate the parental rights of the biological father or presumed father and/or the biological mother if both are applicable. The proceedings itself can either go for a year or longer depending on the underlying issues which are similar to the step-parent adoption and once an order is provided by the court terminating parental rights then the adoption proceeding can go forward.
Usually, that in and of itself is 60 days after the termination. If you're interested in learning more information about independent relative adoptions or step-parent adoptions, please contact our office.
Join Our Mailing List
Updates & Firm News
Contact us to Discuss
Your Family's Legal Issues
Whatever legal issues your family is facing, rest assured we can be of assistance.
Call our Ventura office at
(805) 919-8346
or contact us online to set up a initial consultation.
REQUEST A CONSULTATION
Get in Touch
Request A Consultation
Contact Us Today To Schedule Your Initial Consultation